About the Artist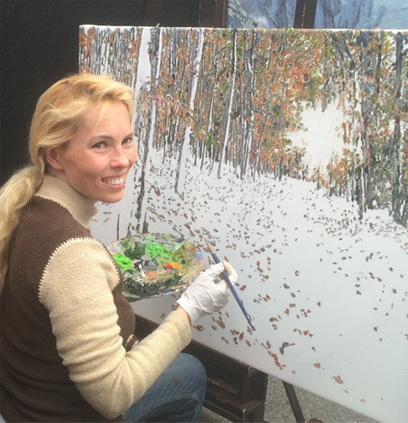 Ganna Halvorsen is an artist whose multi-faceted creative force has manifested itself in the aesthetically focused environment of fine art. Born into a Russian Siberian family whose wealth was measured in the spirit of love and family unity rather than any form of financial or material value, Ganna realized at a very early age that she was a natural artist. She would spend hours in plein-air painting the unforgettable Russian nature scenes honing her abilities. The nurturing of a latent talent later blossomed as a great passion conjuring the most beautiful of images from paint onto canvas. Graduating from the best art school in Russia, The Surikov Institute, Ganna has expressed the purity of mesmerizing landscapes raising the bar to a higher quality fine art. Centered around the principle of delicate grace Ganna's creations are astonishing and have earned a worldwide recognition among international private collectors and aficionados including Anthony Hopkins, Edward van Halen, and François Pinault.. Ganna has created a series of extraordinary hyper-realistic works and studies in land that realize detail from an almost molecular perspective.

Ganna Halvorsen has established herself as a popular contemporary artist whose creations are immediately accessible, beautifully executed, and appeal to a variety of tastes and design requirements.
Recent clients include:
Mirror Media Group, Santa Monica, California
West Central Produce Corporate Offices, Los Angeles, California
First Bank, California
Electronic Arts, Playa Vista, California
Ganna Halvorsen is invariably the top-selling artist in any group show that she participates in, due in part to the simple, but striking, beauty of her fine artwork. Ganna lives by an artistic philosophy centered on a triad of truth, beauty and good. She hopes that you enjoy her artwork and would love to hear any comments and feedback that you may like to share with her.